Wood Floor Finishes and Seals –
Bona Mega
Bona Mega revolutionized the world of wooden coatings in 1995 with its pioneering crosslinking technology in a waterborne formula. Today, Bona Mega still holds a unique position on the market due to its innovative formula that reacts with oxygen, giving the benefits of a two component product. Containing vegetable oils, a renewable resource, Bona Mega is a sustainable choice for the future. 8 million kilos of CO2 emissions have been saved through the unique Bona Mega process. Now the range has a further innovation – Bona Mega Extra Matt – giving you that pure matt wooden look.
| Available sheen levels | Available sizes |
| --- | --- |
| Gloss | 5L |
| Silkmatt | 5L and 1L |
| Matt | 5L |
| Extra Matt | 5L |
Comes in Gloss, Silkmatt, Matt, Extra Matt.
One component crosslinking technology.
The finish has a very low gloss level which makes it look almost invisible and resemble natural wood.
Excellent flow and levelling.
Proven track record, still unique after 28 million litres and 136 million m2 covered.
Partly made of renewable resources.
NMP-free.
EC1 classification.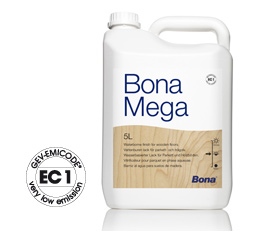 Wood Finishes and Seals –
Bona Traffic
Bona Traffic is a two-component, waterborne, 100% polyurethane finish for the surface treatment of timber floors in commercial premises or wherever a high resistance to wear is required.
Bona Traffic provides a clear, natural appearance, giving almost invisible protection when the IP (Matt) version is used.
| Available sheen levels | Available sizes |
| --- | --- |
| Matt | 4.5L + 0.45L Hardner |
| Silkmatt | 4.5L + 0.45L Hardner |
Contains less than 10% solvents
Superb scratch and chemical resistance
High scuff resistance
Non-yellowing surface
Meets DIN norm 18 032 and BS 7044:1990 for slip resistance
Meets ÖNORM C 2354 Category C (very heavy wear)